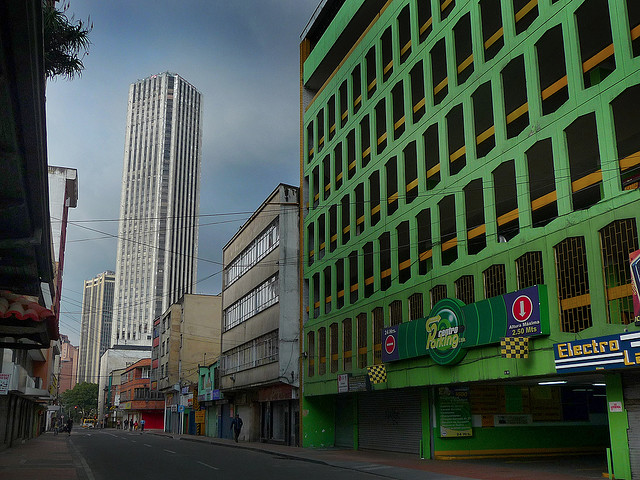 This month we will launch our inaugural exhibition, Southern Topographies, a tribute to the series Uncommon Places by American photographer Stephen Shore. Southern Topographies will present three Colombian photographers who's work identifies the Colombian culture and relates to the cultural and technical standards that Shore presented in his 1982 anthology.
"Colombian artists have a very strong point of view in representing their culture and we are looking forward to representing those views in our first exhibition," says Andrew Ütt, co-director of Galería MÜ. "Photography has a strong history in Colombia and we hope to build upon that history by presenting the medium in an artistic manner, retaining the beliefs and vision of Colombians."
With Topografías del Sur, Galería MÜ will present three photographers who's work bridges the gap between an everyday point-and-shoot photo and art. The presentation of this exhibition will also provide insight into Stephen Shore and his contributions to the history of photography through the New Topographic movement of the United States in the 1970s.
In 1975, curator William Jenkins presented an exhibition at the International Museum of Photography in Rochester, New York titled "New Topographics: Photographs of a Man-Altered Landscape." The show intended to present photographers who captured imagery of the land of the United States as it were, topographically, without interruption. Stephen Shore was the only photographer to present color photography in this exhibition and has since inspired generations of photographers to take images of cultural landscapes – both physical and metaphorical – around the world.
"As Colombia becomes a significant driving force for Latin American art, there is a desire to develop it's own identity. Within this context, Topografías del Sur takes inspiration from the work of Shore while paying tribute to his work by introducing a new uncommon place: the city of Bogotá," dice Carolina Montejo, photographer and co-director of Galería MÜ.
Artists Francisco Mojica and Susana Carrié approach Bogotá from different altitudes. Mojica's view on the city is abstract and brutal with views of miles and miles of buildings, pieced together and floating in a light cloud of exhaust. Carrié is a street photographer and takes a more personal view at how the architecture and colors of Bogotá represent a tremendous city, robust and active.
On a historical note, the Archive of Foto Tito is comprehensive, including imagery of a city in development, accepting the new technologies of the early 20th century and advancing rapidly. Tito Celis, originally from the department of Santander, has captured a culture of growth and inhabitance of large spaces from the 1950s.
Alongside the presentation of these works, Galería MÜ will present two classes that provide a space to learn about photography, its use, and history. The first, From the Technical to the Technological: Photography in 500 years, taught by directors Andrew Ütt and Carolina Montejo, will be a comprehensive history of photography relaying the ideas of how photography developed from a technical medium to an art. The second, Basic Photography Studio, will be taught by Fernando Cruz Florez (fotografiacolombiana.com) and assisted by Ütt and Montejo, will provide the basic tools to teach photography enthusiasts how to take an excellent photo and present a cohesive series of images.
Topografías del Sur will run from February 12, 2011 until March 12, 2011 at Galería MÜ, located in the neighborhood of La Macarena at the Casona de San Miguel, Carrera 4ª No. 26-29, L. 202. The inauguration of the exhibit will take place on Saturday, February 12 from 10am-1pm.
---
Source : Galería MÜ